Saxum Visitor Center
Enhance your
Holy Land Experience
Saxum Visitor Center
Enhance your
Holy Land Experience
Saxum Visitor Center
Enhance your
Holy Land Experience
Enhance your Holy Land Experience
Our guided tour helps visitors to immerse themselves  in the history of the Holy Land through timelines, maps, interactive screens, models, recreations, and video mappings, allowing them to experience the spatial and  temporal dimensions of the land Jesus walked through.
Monday to Friday, 9am – 5pm
Do you want to follow the Road to Emmaus that Jesus walked with the two disciples?
A biblical and historical trail of 20 kilometers from Saxum Visitor Center to Emmaus-Nicopolis.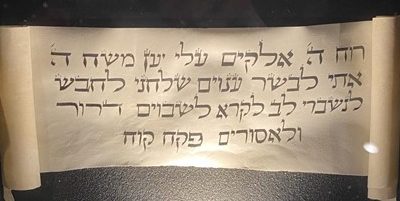 The legacy of Isaiah in the Bible is grandiose. In the fourth century, Saint Jerome, with his passion for Scripture, calls him "not just prophet, but evangelist and apostle" (PL XXIV, 18). As evangelist, he draws a portrait of the Messiah -700 years before his coming-...
read more
Church of the Multiplication (Tabgha): Corpus Christi
Very close to the Sea of Galilee, this is the place in which Tradition says Jesus performed the multiplication of the loaves and fishes. 
Thanks to the work of many Advisors, Saxum International Foundation promotes
activities related to the Holy Land from various regions of the world.
You can also take part in this project!