You've heard of TED Talks, but you haven't heard of HLD Talks.
In this year's Holy Land Dialogues (HLD), after popular request, participants were able to hear about the Holy Land from those who know it best: entrepreneurs, journalists, activists, and scholars who live here. These sessions took place after dinner, after a day of visiting sites. 
"Christian Arabs have been here since the beginning, ever since St. Peter's first speech."

Imad Younis
Throughout the week of HLD, participants listened to a group of speakers from different backgrounds and religions who tried to outline, in their own words, the complex reality of this region.
The first HLD Talk on February 24 featured Imad Younis, President of Alpha Omega Engineering company. Imad, who identifies as an Israeli-Palestinian Arab Christian, debunked the common misperception that all Arabs in the Holy Land are Muslim: "Christian Arabs have been here since the beginning, ever since St. Peter's first speech. Due to media coverage, many people think that 'Arab' means 'Muslim', but that's not the case."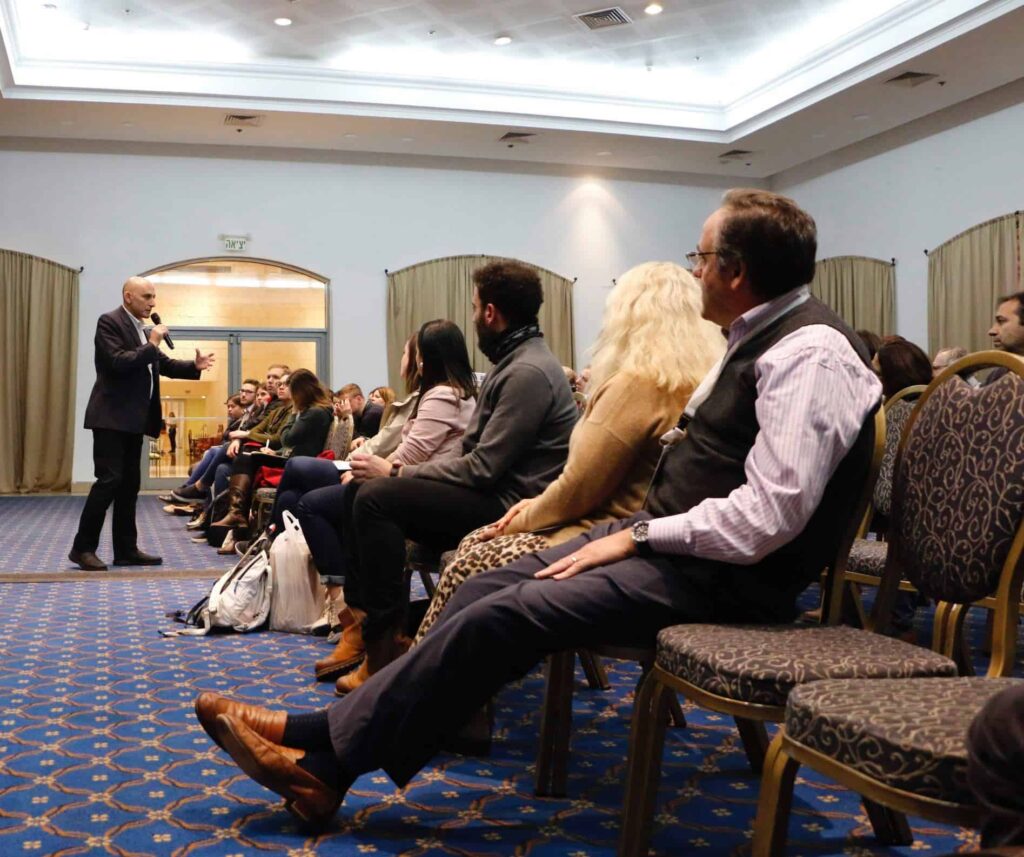 He also argued that bringing together workers from diverse backgrounds and religions can only contribute to business success.
"No matter what their views, people want work that is well-done. [At Alpha Omega] we have a very diverse team [of both Jews and Arabs] that share the same mission and vision working together.What is innovation? People thinking differently to arrive at a unique solution. That's why our company has received recognition [from across the political spectrum] because our diversity of employees, working together, makes for good products."
On February 25, HLD travelers heard from Israeli activist Gadi Gvaryahu, who founded the nonprofit Tag Meir to fight racism in the country. "Any political solution in the future must help us to respect each other and know at least some of each other's history and culture," said Gvaryahu. "In other words, we must learn how to live together."
"I'm one of those who thinks that religion will either lift up or destroy the world. A lot depends on us."

Jose Levy, CNN en Español
The third HLD speaker, on February 27, was José Levy, a renowned Middle East broadcaster for CNN en Español. He spoke about the need for objectivity in journalism; the division between Sunnis and Shiites; Pope John Paul II's historic meeting with Fidel Castro at which he was present; and more. 
"I'm one of those who thinks that religion will either lift up or destroy the world," said Levy. "A lot depends on us."
A member of the audience asked him, "After reporting on so many conflicts, what do you think most unites humans?"
Levy replied that everyone is united by their desire for peace, and for their children to live in a better world. That, he explained, is why he is involved in the global education initiative Scholas Occurrentes with Pope Francis and prominent Israeli journalist Henrique Cymerman.
On February 28, HLD participants listened to Henri Gourinard and Fr. Joaquin Paniello of the Polis Institute of Jerusalem. Gourinard spoke about the history of the Emmaus Trail, which begins at Saxum and ends in Emmaus-Nicopolis, and which he has helped research.
"My dream," said Gourinard, "is that, at the end of their trip in the Holy Land, pilgrims can walk the trail to Emmaus, take a shower, and head to the airport" (Emmaus is located between Jerusalem and the Tel Aviv airport). Those in the audience who were avid hikers and bikers asked for more information about trails by which they could actively explore the Holy Land. 
Fr. Joaquin Paniello explained some of the not-so-obvious theological connections between the Old and New Testament, and spoke about the Polis Institute of Jerusalem, a place that brings together all religions and races, where he is chaplain.
On the last night, February 29, Yisca Harani, an Israeli scholar on Christianity, reminded the audience that Jews view history differently than Christians. The Jewish people are known for their memory, Harani said, and this memory is usually linked to trauma they have suffered over history. For this reason, a given period of time or historical event holds different connotations in the collective memory of Jews than for other nations and peoples. 
Journalism and tech, history and religion: after HLD Talks, Saxum Foundation hopes that participants left with a wider knowledge of the region.